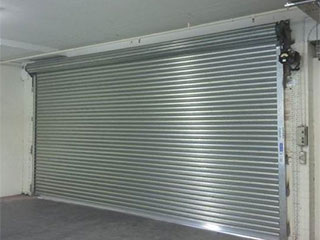 There are many different types of garage door systems out there, so knowing which one is going to be the perfect one for your home can be a real head-scratcher. Luckily for you, our experts are here to help you make the right choice. If you have a relatively cramped garage, or minimal backroom space, then the roll up garage door system might be the perfect fit.
The Major Benefit
What roll up garage doors offer that other types of systems can't, is minimal space requirements. These types of doors don't utilize a lot of backspace, as they are under rolled up on the ceiling or above the opening of your garage. This makes them a perfect choice for homeowners who use their garage as a storage space for a lot of different types of property.
The Two Types
These door systems can be made of two different types. The first is the sectional roll up door, which consists of several panels, attached horizontally. It offers slightly less insulation quality, but oftentimes, if the door sustains any damage, only the affected panels need to be replaced, as opposed to the entire door. The second type is the rolling steel door, which, as the name suggest is made of steel. It consists of a sheet of slats that folds into itself in order to open, and is positioned above the opening of the garage, very much like a rolled up carpet.
Different Materials Offer Different Benefits
Much like other types of garage door systems, the material your door is made of will determine what types of qualities it will offer you. Wooden doors will be more insulating and beautiful, but will require more maintenance. Steel ones, on the other hand, are far more damage resistant, but can rust more easily. As for aluminum, it is much lighter, which means it will require a less powerful opener, and won't develop rust. However, aluminum tends to dent more easily from damages. The choice ultimately will depend on your budget, your local weather conditions, and your current opener unit, as well as a few more factors.
Contact Us Today
Whether you need torsion spring replacement, want your roll up garage door to receive some professional maintenance, or are looking to get a new one installed in its place, we're the team to get it done. Call our experts at Garage Door Repair Chicago today.