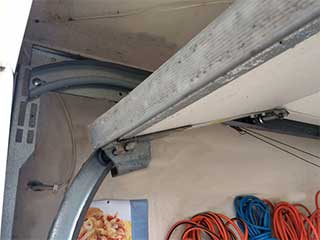 Do you have a snapped cable or a bent track? Don't worry. You can count on our garage door technicians for a fast and reliable repair service.
Cable and Track Repair
We replace broken, frayed and damaged lift cables in little to no time at all. We can also fix or replace the safety cables of extension springs too. These components help to keep the springs in place if they break, so they are crucial safety precautions for protecting the well-being of you and your family. Whether your cables break, get off the drum, or are simply loose and need some adjustment, we're the team to call. You can also rely on when it comes to repairing bent, misaligned and rusty tracks using the effective techniques. If they are too damaged, we'll simply replace them. If your garage door gets off track, we can realign the unit perfectly to return it to its safe and smooth operation.
Emergency Response Services
Our Chicago based experts are considered amongst the best technicians in all of Ilinoy. We understand that some garage door related problems require fast assistance, and therefore we always make a conscious effort to reach our customers without delay. We've started providing local homeowners with urgent repair services not only because we want to help people avoid a lot of potentially dangerous accidents, we also want to help our customers maintain their daily routine without interruptions. Your convenience and well-being are incredibly important to us, as is your satisfaction.
Safety Comes First
This is the fundamental guidelines we operate by. Garage door cables and tracks can be dangerous components to try and handle without the correct tools and the necessary training. Since the cables are involved in supporting the weight of the door panels, and the tracks are in charge of maintaining the system's movement, the risks involved when these components break or malfunction are quite obvious. That's why we put safety ahead of everything else, regardless if we're called to troubleshoot a malfunctioning garage door opener, replace broken springs or cables, or simply apply a customer's overhead door system with a routine maintenance procedure. This guideline also comes into play when we perform our garage door installation services, as we make sure every part is positioned safely in its appropriate place.
Seek Professional Assistance
If you're dealing with garage door cable or track problems, we urge you not to try and handle them by yourself. Our experts at Garage Door Repair Chicago earned their glowing reputation for a reason. We are dedicated to providing customers with the best possible repair services, regardless of which part of their system is the culprit. Call us today.