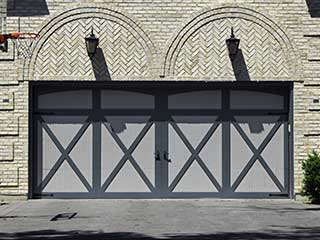 The field of automatic garage door repair and installation is quite vast, and there are all sorts of service avenues that may be relevant to you. If your overhead door spring breaks, you'll find the door struggling to open. If the automatic opener is having some problems, you may find the garage door refusing to close. If you want to improve the security and aesthetic curb appeal of your home, you may want to invest in a new overhead garage door. Whatever the case may be, there's a nearby team of experts ready to lend you a hand.
Garage Door Repair Chicago To The Rescue
Are you dealing with an overhead door that doesn't move all the way or gets stuck? Then relinquish yourself of all worries, because Garage Door Repair Chicago has the professional technicians you need. From fixing garage door off track scenarios to troubleshooting LiftMaster openers and Genie or Chamberlain models, all types of services are available when you reach out to us for help.
Broken Spring Repair Near Chicago
Overhead garage door systems rely on extension or torsion springs in order to move up and down. When those springs break, trouble strikes. A broken garage door spring means you will have problems opening the door, and you'll actually be taking a risk trying to do so. These doors can weigh upwards of three hundred pounds, and having one fall down on you is not a pleasant idea. What's more, the garage door springs used for these systems are under tremendous tension, and when they break they can whip around, and you do not want to be there when that happens. Leave all spring repair and adjustment to the pros and enjoy seeing your garage door go back to work in no time.
New Garage Door Openers
Want to really improve your automatic overhead garage door system? The opener is where it's at. From LiftMaster chain drive models to Genie ultra silent belt drive openers, the wide selection of modern products has something for everyone. You can enhance your home's security with a new garage door opener that utilizes rolling code technology, as well as improve your daily convenience by using a WiFi-enabled device which you can control with your smartphone. From backup batteries to digital locks and online monitoring, there are all sorts of innovative features new garage door opener models have to offer. Consult with an expert from Garage Door Repair Chicago to find the perfect device to upgrade your old opener.
Install a New Garage Door
A great way to add to the curb appeal of your home is to replace the garage door. This overhead door system takes up a lot of visual real estate on the front end of your house, and it can be visually appealing, or a real eyesore. With brands like Clopay, Windsor, and others offering beautiful hardwood panels and steel garage door collections, finding a model that adds to your home is real easy. Get a free estimate on a new garage door and ask us everything you want to know about insulation, steel vs wood door panels, weather seals, and maintenance requirements.
Any Service You Need
To boil it down for you, Garage Door Repair Chicago specializes in all aspects of overhead door services, from emergency same day repairs to replacement of panels and electric opener models. If it's garage door-related, it's within our service purview. Give us a call on our service hotline or schedule an appointment using the online system on this website.