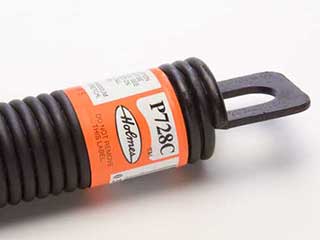 Springs play an invaluable part of any garage door system. They're the mechanism that helps the panels move up and down without you having to break a sweat. The experts at Garage Door Repair Chicago worked hard to become the best torsion spring experts in Chicago. It took years and years of honing our skills and dealing with every possible problem under the rainbow for us to finally be able to confidently declare ourselves as the best garage door technicians in the city. It is our belief though that the ability to provide a variety of effective services to every local homeowner is the key to our success.
Broken Garage Door Spring Repairs
Dealing with these parts when they break is dangerous. This is because there's a lot of tension carried in their coils. After a garage door spring broke trying to open the door can become risky. While it's possible to do so, it's unwise. You can sometimes open a garage door with a broken spring, but the support for the panels isn't stable, or as stable as it should be. Garage door spring replacement is also a dangerous task, as you'll have no trouble understanding from the rest of the info presented below. Whenever you find yourself in need of getting new garage door springs installed, let a professional handle the task.
The Two Main Garage Door Spring Types
Garage door springs repair is one of the areas we put a major focus into. There are two main types that are commonly used in residential garage door systems. The extension type, which is considered the more dangerous option, operate by stretching and contracting in order to support the weight of the door panels. Therefore, they are more susceptible to wear and tear damage, which means they are more likely to break after a certain point. Torsion springs, on the other hand, work differently. They twist and unwind in order to perform the same task, but the nature of their action makes torsion springs much stronger and less susceptible to damages. For those reasons, they're considered the safer and more durable option. Garage door torsion springs are designed to operate effectively for a certain amount of cycles. With proper lubrication maintenance they can last longer.
Garage Door Springs Require Special Care
A broken torsion spring can leave your automatic garage door completely stuck. It's dangerous to even try to run the opener under that condition, as you can end up with even greater damage to your door system, not to mention your safety will be compromised. The best thing to do is to contact our team. We replace torsion springs of all sizes, makes and brands. Rest assured that we have the perfect spare part at hand. The replacement process involves removing the pieces of the old component, mounting the new one and winding it to counterbalance the door perfectly. If the door's out of balance, count on us to adjust the spring accurately.
Difference Between Garage Door Springs
Torsion springs are usually used to support extremely large or heavy door systems. However, if your garage door is smaller and lighter, then a set of extension springs are often the preferred choice. Both torsion and extension types can come in a variety of sizes and capabilities. The extension type ones are installed parallel to the ceiling, running from the door to the inwards into the garage. The torsion type is normally made of a spring, a drum, and a shaft. They are typically installed right above the door.
Garage Door Spring Services Nearby
Garage door spring replacement should only be performed by a trained professional. Whenver you need help with these parts, let the nearest team (i.e. Garage Door Repair Chicago) lend you a hand. Broken spring repairs and even tension adjustment for torsion springs can present all sorts of dangers. Avoid the risks by letting local pros handle your garage door spring repair needs. Call us for same day service any day of the week.
Looking for more? We also offer:
Opener Sensor Repair & Replacement
Galvanized Torsion Spring Installation
Garage Door Off Track Repair