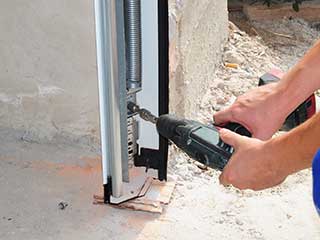 Just like any complex electro-mechanical device, your garage door will eventually need to be replaced. Since most models tend to last for a good decade or two, if you come to need replacement now, that means there are more than likely a lot of more advanced options available for you to choose from today. When it comes to the actual installation process, there's no one better to get the work done perfectly than our professional technicians. We can make sure your new door will be safe to use and will last you for a very long time.
The Different Materials
Garage doors can be made from a variety of materials, but the three most common ones are wood, steel and aluminum. Each material has different attributes that can make it a perfect fit for your home, or a little less than perfect.
Beautiful Wood, Sturdy Steel
Wood is considered to have a very beautiful and classic look, it can be a great choice for a homeowner that wants their garage door to signify class and aesthetical value. However, this material requires more frequent maintenance, and must be routinely applied with rot repellent coating. If you live in a humid environment, it may not be a perfect choice. Steel, on the other hand, is very durable and strong. It is an excellent choice for homeowners seeking for maximum security. However, it too requires some maintenance, as rust could develop under certain conditions.
The Unbearable Lightness of Aluminum
Finally, we have aluminum. This material's main benefits derive from the fact that it requires very little maintenance and is very light in weight. This means you won't need as strong an opener as the other materials would require. However, aluminum can bend and dent rather easily, so it won't be as impact resistant.
Performing The Work
One of the main services we provide to our local customers is garage door replacement / Installation. The reason so many homeowners come to us for this service is that this is arguably the most crucial part of getting a garage door. There are a variety of things that can go wrong during the installation process, some of which may not reveal themselves immediately. An excessive need for repairs, more frequent maintenance will cost you money that could be used for something else, and the best need to avoid a lot of needless hassle is to make sure your door is installed to perfection.
Consultation Is Crucial
The most important part is that you don't just buy a garage door system that you're not sure about. There's no need for you to have inundated yourself with books and articles in order to fully understand every aspect of this subject. Our experts at Garage Door Repair Chicago are here to save you all this trouble. We'll help you take every important factor into consideration, from your local climate, to what material will be best suited for your natural surrounding, and even which garage door opener is the best one for your desired door. Don't make an uninformed decision. Call us today.
We Also Offer:
Emergency Response Services
Universal Garage Door Openers
Remote Clicker Replacement
Overhead Garage Door Repair