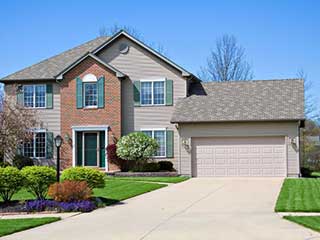 Garage Door Repair Chicago offers a wealth of experience when it comes to installing new overhead door systems. You can get quality garage door panels made of faux wood, real wood, steel or even aluminum. After consulting with the experts and deciding which garage door is best for your needs, you can sit back and relax. The service team will proceed to install the new system. This includes an automatic opener if you want. You can get a free quote today after meeting with the nearest garage door pro for a no-obligation consultation. Of course, apart from installing these systems, our garage door company also provides effective repair and troubleshooting services.
Garage Door Installation Services
At Garage Door Repair Chicago, we understand your desire to choose the perfect garage door for your home. Everyone wants a door to reflect the style and also one that's built to last. We can help you choose from a variety of door designs – the ultimate decision will come down to a number of factors such as budget, material required, weight desired and aesthetics. Our technicians can guide you through the options and install the new door for you.
Garage Door Openers
Openers can be tricky little things. Our technicians are trained to handle a range of opener trigger problems, no matter what style or brand. If you're having trouble with yours or already know that you need a new one, give us a call and we'll help you out.
Emergency Garage Door Repairs
There may be situations when the garage door is stuck and your car is either stuck inside or outside as a result. You don't need to look any further. We offer comprehensive emergency repair services and our experts will reach you as quickly as they possibly can.
Broken Spring Replacement
Some of the different parts that make an overhead door work can break, at which point expert assistance will be a must. Broken garage door springs are dangerous when handled incorrectly. You should avoid trying to DIY any repairs or adjustments, for you'll be placing yourself in harm's way. Leave the garage door spring repairs to the best and nearest service team (which happens to be us). This way you'll know your garage door continues working with springs that are reliable and durable.
Garage Door Parts
There are a number of parts that fit together to make your overall garage door system work. We can examine all your parts and replace any as necessary, from garage door cables to rollers and panels.If you need new tracks and rollers, which you may after they've taken significant wear and tear, those are available as well. Everything from garage door sensors to springs and even new opener models is offered here.
Overhead Door Maintenance Services
The best way to avoid costly repairs is to keep your door system well looked after. During our maintenance visits, we'll ensure your parts are well-lubricated and adjusted. Our aim is to catch any issues before they snowball into larger ones and prevent problems from ever occurring.
Garage Door Services Nearby
Whenever you're in need of urgent troubleshooting or other services, let us know. Garage Door Repair Chicago handles all types of related services. This includes garage door opener replacement and spring repair, but also complete installation of a new overhead door system, as mentioned earlier. Give us a call for same day repairs and free estimates on new doors any day of the week.
Why We Stand Out in Illinois:
Knowledgeable Technicians
Easy To Book Appointments