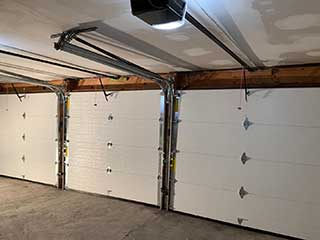 Automatic garage doors do a great job keeping you and your property safe and comfortable. From time to time, though, they need some skilled maintenance in return. Make sure you know a good garage door company near you who can provide these professional services when needed! If you need such help, know that help is already nearby. Garage Door Repair Chicago services all the nearest areas and then some. Use us to get rid of problems fast.
What Can Go Wrong?
While the garage door not opening or it not closing are the end results of an untreated problem, there can be many causes. Often, there are also warning signs before it happens. Aside from visual signs of broken garage door springs, panels, or drive components, you can often hear rattling, scraping, or screeching sounds. This usually happens if something is starting to go wrong. Getting the problem solved before a total breakdown will be both less inconvenient and less expensive. If your overhead door is getting noisy, slow to respond, or jerky or uneven in its movements, you should get it looked at. Do this sooner rather than later.
What To Do About It?
Garage door opener repair, broken spring repairs, and getting a garage door off track back into place are among the three most common maintenance operations. Make sure you know a good garage door service near to you that can perform these operations. You can also look up our troubleshooting tips and blog articles elsewhere on this website to get better at recognizing problems and keeping your garage door in good shape.
Periodic Garage Door Maintenance Pays Off
You should have your garage door examined by a local professional at least once every six to ten months. Even if there's nothing wrong, the door can always benefit from the occasional calibration, oiling, and cleaning. Periodic maintenance will also let you know if some of your garage door components are starting to approach the end of their service lives. Catching a worn-out part early means you can replace it before it breaks instead of afterward!
Get New Garage Door Parts If Needed
Garage door opener replacement, extension or torsion spring replacement, and even new garage door installation sometimes have to be done. If taken good care of, you can expect springs, openers, and most other components to last somewhere between five to fifteen years. Make sure your local garage door service can get you high-quality replacement parts. Any new components need to be compatible with the rest of your system and able to handle your door's size and weight.
Educate Yourself About Garage Doors
There is a wealth of information available for free online about automatic overhead door ownership. Familiarize yourself, or consult your local experts! There's some stuff you can do yourself. Let's take spring lubrication for example. If you make sure to regularly lubricate your garage door springs using white lithium based spray, you can expect them to last far longer. Spring lubrication is very helpful and will cost you money in the long run. How? Well, for once, your garage door springs won't break as quickly. The door will make less noise while moving. And its movement will be smoother. Remember though, spring tension adjustments are best left to your local pros.
A Nearby Garage Door Service Company
So who do you turn to in times of trouble? Garage Door Repair Chicago, that's who. Let us know as soon as you realize you need any type of service. Get fast, same day solutions to all types of problems, as well as premium garage door parts for cheap. Call anytime.