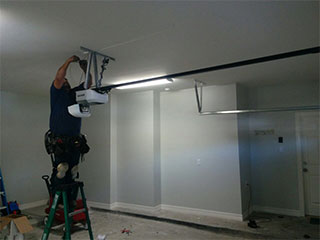 It only takes one part, such as a garage door spring, to malfunction for your whole system to come to a screeching halt. Luckily you don't always need a complete door replacement. Many parts can be repaired or replaced so your door can work smoothly again. Garage Door Repair Chicago knows exactly how to get this right.
Garage Door Repairs Near You
It's important to go with a local company when you need some part of your garage door fixed. Why? Because speed is often a crucial factor when it comes to these sort of repairs. Mishandling garage door repair work can lead to more problems in the future. Using cheap parts to solve a problem will only cause it to reoccur later down the line. To ensure your garage door is fixed correctly, you need someone who's fast and nearby. That garage door company is us.
Garage Door Not Opening
Another unfortunately somewhat common problem. This can be the result of all sorts of problems. The opener not having power is one probable cause. The garage door tracks being blocked or the cables or spring have broken could be other potential reasons. There might also be a mechanical problem with the opener, like broken motor gears or a loose chain. Whatever the case, Garage Door Repair Chicago has the repair solutions you need. Available at low-cost rates and with a fast response to every service call.
Opener Troubleshooting Services
Many times the problem can come to involve the garage door opener. This is the device that automates the system, so it's natural for it to influence its behavior when it malfunctions. The garage door opener not working properly means you'll want to have an expert take a look. The opener travel limit can use some adjustments, or the drive system may need to have a part replaced. If the garage door is not closing then the opener sensors may have lost their alignment. The garage door remote not working could be an issue with the opener antenna, or the remote itself. Whatever the problem, the best garage door opener repair company you need is a phone call away.
Stop the Garage Door Noise
Unfamiliar noises are signals that something's wrong with your door. But how do you know what to repair? Experts can get to the root of the problem quickly. Don't risk not attending to these issues. Broken parts increase strain on others, and this can create bigger problems. The solution could be simple, such as moving rollers that need lubrication. Perhaps it's more serious and a garage door spring needs to be replaced. Take the guessing work out of repairing your door. Our team will find the reason for the noise, determine what you need and handle it at the lowest cost possible.
Broken Garage Door Springs
This type of problem is all too common, unfortunately. If the garage door spring broke you'll soon discover that trying to open the door becomes very hard. You should avoid trying to open it. Is it possible to open a garage door with a broken spring? Sometimes, yes. But don't try to do that. Broken springs are dangerous and replacing them requires skills and experience to do safely. Leave the necessary broken spring repairs to us, the best garage door repair company nearest Chicago.
Check all Components
What's preventing your door from moving? Is it really a mechanical problem, or is the solution as easy as fixing your controller? Perhaps you accidentally activated a disconnect switch. But do you know where to check for the cause of the problem? The Garage Door Repair Chicago service team can handle repairs for all garage door parts, mechanical and electrical. If replacements are necessary, we'll leave you with quality parts and pride ourselves in our neat workmanship. We have knowledge of all brands. Whatever your door's issue is, we'll fix it.
Find Help Nearby
We know these problems don't always come with warnings beforehand. If your garage door fails you at an inconvenient time, we'll do our best to help you fast. That's what our emergency services are for. Give Garage Door Repair Chicago a call for the best service near your area. Same day repairs are offered for every problem. Available Sunday through Saturday.
Other Related Advice
Garage door roller popped out. What do I do?
If one of your rollers has come off, you will need to take the garage door off of its tracks to replace it. Removing an overhead garage door is a difficult task that requires heavy lifting, and shouldn't be done alone or untrained. Do not be tempted to just bend the tracks open and replace the roller without removing the door. This might seem like a quick and easy solution, but it will damage your tracks.
My garage door won't open all the way. How come?
If a garage door is opening partway, the problem is either a mechanical jam or an opener calibration issue. If there's a jam, you should hear grinding, rattling, or screeching sounds as the door comes to a halt. The door may also open with halting movements or list to one side. If the door is opening smooth and quiet before coming to a premature stop, then your opener settings probably need recalibration.
Why is my garage door reversing?
Garage door reversal during operation can be caused by faulty controls, dirty or misaligned sensors, or opener logic board problems. If your garage door opens just fine but reverses when you try to close it, then it is probably the sensors. Check the LED's on your sensors to see if they're off or blinking. If opening the door is the problem, try disconnecting each control system (or moving them out of range) to test them all. If that doesn't help, you might need a new motherboard for your opener.
In addition, count on us for:
Emergency Garage Door Spring Replacement
Liftmaster Garage Door Maintenance
Overhead Door Installation
Garage Door Cable & Track Repair