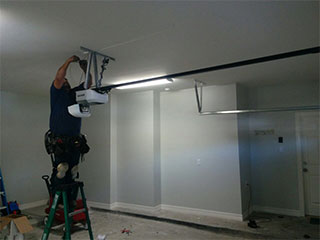 Repairs Must be Done Right
It only takes one part, such as a spring, to malfunction for your whole garage door to come to a screeching halt. Luckily you don't always need a complete door replacement. Many parts can be repaired or replaced so your door can work smoothly again. Our team knows exactly how to get this right.
Stop the Noise
Unfamiliar noises are signals that something's wrong with your door. But how do you know what to repair? Experts can get to the root of the problem quickly.
Don't risk not attending to these issues. Broken parts increase strain on others, and this can create bigger problems.
The solution could be simple, such as moving rollers that need lubrication. Perhaps it's more serious and a spring needs to be replaced. Take the guessing work out of repairing your door. Our team will find the reason for the noise, determine what you need and handle it at the lowest cost possible.
Check all Components
What's preventing your door from moving? Is it really a mechanical problem, or is the solution as easy as fixing your controller? Perhaps you accidentally activated a disconnect switch. But do you know where to check for the cause of the problem?
We can handle repairs for all garage door parts, mechanical and electrical. If replacements are necessary, we'll leave you with quality parts and pride ourselves in our neat workmanship. We have knowledge of all brands. Whatever your door's issue is, we'll fix it.
Find Help Fast
We know these problems don't always come with warnings beforehand. If your door fails you at an inconvenient time, we'll do our best to help you fast. That's what our emergency services are for. Give us a call for the best service in Chicago, when you need it, at a price you can afford.
In addition, count on us for:
Emergency Garage Door Spring Replacement
Liftmaster Garage Door Maintenance
Overhead Door Installation
Garage Door Cable & Track Repair