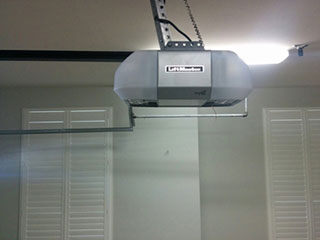 While garage door openers serve to make your life a lot easier when they are working correctly, sometimes problems pop up to prevent them from working properly. If you notice any of the below issues, it's important to call us our professionals right away to get the issue resolved.
Operating on its Own
It's very strange to see your garage door open and close on its own, but there may be a simple answer to the problem. If your neighbor has a garage door that is running on the same frequency as yours, they may be inadvertently controlling yours. It's best to give us a call to rule out any major problems. If this is what's happening, we can make the necessary adjustments.
The Unit Isn't Responding
If you are sure your garage door opener is plugged in, and the remote has batteries in it, yet still the unit won't respond there may be a more serious problem. We can open up the unit and troubleshoot common problems with your system. Whether the problem is minor or something larger, we will get your garage door functioning properly once again.
Only Works Some of the Time
When openers work only part of the time, the problem is usually something electrical. Our experts will come to your home, take apart the unit, and run checks to see what the problem is. In repairing the problem, we'll conduct a full assessment and ensure that your opener works for a long period of time following our repair. We'll also be able to provide some tips on maintaining your system going forward.
There are a number of reasons why your garage opener may not be working. If you're having problems with this component, you will likely need professional help. It's time to call us at Garage Door Repair Chicago - we know how to work with different types of model and will make any necessary repairs to have your door working again right away.
We also offer:
Garage Door Troubleshooting Services
Garage Door Torsion Spring Replacement