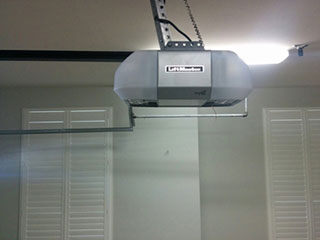 While garage door openers serve to make your life a lot easier when they are working correctly, sometimes problems pop up. These issues can prevent your opener from working properly. If you notice any of the below issues, it's important to call local garage door opener repair pros (i.e. us!) to get it fixed quickly. Remember, the opener is an electromechanical device that requires certain levels of skill and experience to handle. Avoid DIY and let professionals repair your garage door opener quickly and safely. The best garage door opener repairs providers in Chicago IL are only a short phone call away. With same day repairs available throughout the week and weekend, you can get in touch with us for anything, at any time.
Garage Door Opener Is Not Working
If you try to use the automatic opener only to find it isn't responding, you need to check a few things. Make sure the power is properly connected. Check the garage door remote batteries and the wireless keypad, if you have it, to see if only some of the control methods don't work or all of them. There might be a mechanical problem causing this malfunction. Chain drive openers can get stuck or need adjustments. Even the opener motor gear can break or wear out and will need replacement. If you still have your owner's manual, try some basic troubleshooting. But remember - contact the nearest garage door opener repair company (us!) if you need expert repairs. Avoid DIY to prevent risks and keep yourself out of danger.
Garage Door Opener Opening On Its Own
It's very strange to see your automatic garage door open and close without you telling it to. But there may be a simple answer to the problem. If your neighbor has a garage door that is running on the same frequency as yours, they may be inadvertently controlling yours. It's best to give us a call to rule out any major problems. If this is what's happening, we can make the necessary adjustments.
The Garage Door Remote Isn't Responding
If you are sure your garage door opener is plugged in, and the remote has batteries in it, yet still the unit won't respond there may be a more serious problem. We can open up the unit and troubleshoot common problems with your system. Whether the problem is minor or something larger, we will get your garage door functioning properly once again.
The Opener Only Works Some of the Time
When openers work only part of the time, the problem is usually something electrical. Our experts will come to your home, take apart the unit, and run checks to see what the problem is. In repairing the problem, we'll conduct a full assessment and ensure that your opener works for a long period of time following our repair. We'll also be able to provide some tips on maintaining your system going forward.
Garage Door Opener Replacement
When the opener is getting too old, or when you want to upgrade the features of your automatic garage door, it's time to get a new opener installed. How do you know which garage door opener is best? You ask an expert, of course. But here's a short overview to get you started. You've got four basic types of garage door openers. Chain drive openers are usually the cheapest and most reliable type. However, they also tend to require more maintenance and make a lot of noise. Belt drive openers are practically silent and work very smoothly. That comes with a higher price tag usually, though. Direct drive opener models are faster than the others. They need very little maintenance, but aren't silent and can experience some issues due to temperature shifts.
The Jackshaft Garage Door Opener
The fourth type of opener is different in several ways. The jackshaft garage door opener is wall-mounted (as opposed to ceiling mounted like the rest). It uses the shaft of the torsion spring to control the movement of the door. It is usually a good fit for garages without a lot of backroom space. Of course, it requires you having torsion springs. The garage door opener type that's right for you may differ from the one that your neighbor may find preferable. This is because we each have our own budgets and needs. There's a huge amount of variety when it comes to LiftMaster garage door opener models and Genie, Chamberlain, and other brands. Consult with the Garage Door Repair Chicago team to find a model that's perfect for you. Once you selected the best opener for your needs, the experts will set it up.
Garage Door Opener Installation
This is a job that requires precision and experience. If the garage door opener isn't installed correctly, this can lead to more problems down the road. You want the automatic overhead door to move smoothly and respond with no issues every time you use the remote or your smartphone to open it. That's why garage door opener installation is a task best left to professionals. If you think you'll have to search far and wide for help - good news! The garage door opener installers you need are closer than you think. If you're close to the Chicago area, know that you've got someone to turn to. You can get a new garage door opener installed this week or whenever you want. A phone call will connect you to the right experts for the job.
Garage Door Opener Troubleshooting
There are a number of reasons why your garage opener may not be working. If you're having problems with this component, you will likely need professional help. It's time to call us at Garage Door Repair Chicago - we know how to work with different types of model and will make any necessary repairs to have your door working again right away.
We also offer:
Garage Door Troubleshooting Services
Garage Door Torsion Spring Replacement