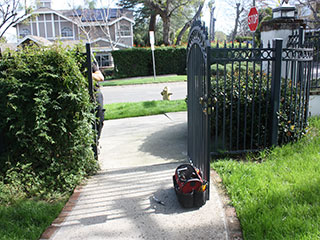 Automated gate systems are similar to garage doors in that both of these complex mechanisms require professional assistance when a problem presents itself. Our technicians specialize in solving all sorts of gate related issues, and we can restore your system to proper operation whenever you experience a problem.
Professional Opener Repair
If you return home from work one evening, or arrive at your office in the morning, and find that the gate refuses to open, something might be wrong with its opener. These electro-mechanical units can experience a variety of issues, but luckily for you our experts can take care of them all. Whether it's a fried electrical wire or a worn-out motor gear, we'll replace the malfunctioning component with a new one.
Broken Hinge Replacement
If your hinges have started showing signs of damage, or if they have become rusty and broken, your gate could become misaligned and potentially even collapse. Should welding repair prove to be insufficient, we can replace your hinges with new, corrosion resistant ones that will be a lot more durable.
New Gate Installation
Whether it's a sliding gate or a swing gate that you're looking for, we can perform the installation for you quickly and safely. We can also help you find the type of system that's perfect for your specific needs. Our technicians will be happy to go over the advantages and disadvantages of each available model. Once we're finished with the installation, we'll perform several safety and utility tests to make sure your new system is functioning properly.
Call Us Today
Don't hesitate to reach out to our experts at Garage Door Repair Chicago for any gate related issue you may be experiencing. Whether you are in need of a repair or replacement, or wish to schedule a regular gate-maintenance appointment with us, we're the team for the job. Call us today – we'll be happy to talk to you!
Our team can also take care of: